February 2023 Updates
As more people are spending their vacation time in the great outdoors, it has been increasingly difficult to book a campsite at the National Parks Campgrounds. Here's some hints, tips and tricks for getting into the park.
The first step is to decide when and where you would like to go. We suggest having a discussion with all travellers including your children brainstorming what activities and interests are most popular. Your preferred activity will help you to decide your destination. Swimming, fishing, kayaking or hiking, mountain climbing and horse riding… all are fun but require the correct location.
Once you know your dates, decide if it is far enough in advance to book. Some parks you will have to book at least a year in advance and some only a couple of weeks. The National Park Service has reservation systems that reward those who know the rules and know when to call. Keep in mind most people travel when school is out and this is the busiest time to secure a booking. Planning well ahead and using the reservation systems to your advantage also help you experience the best the parks have to offer even at the busiest times.
Save Money with the America The Beautiful Annual Pass
If you plan to visit several parks within a year, you can save a lot of money with a National Parks Annual Pass. The America the Beautiful National Parks and Federal Recreational Lands Pass is your ticket to more than 2,000 federal recreation sites across the country. A pass covers entrance, standard amenity fees and day use fees for a driver and all passengers in a personal vehicle at per vehicle fee areas (or up to four adults at sites that charge per person). Children age 15 or under are admitted free.
The America the Beautiful annual pass is $80.00 valid for 2023 and expires February 2024. Here's a sample of how much money you can save…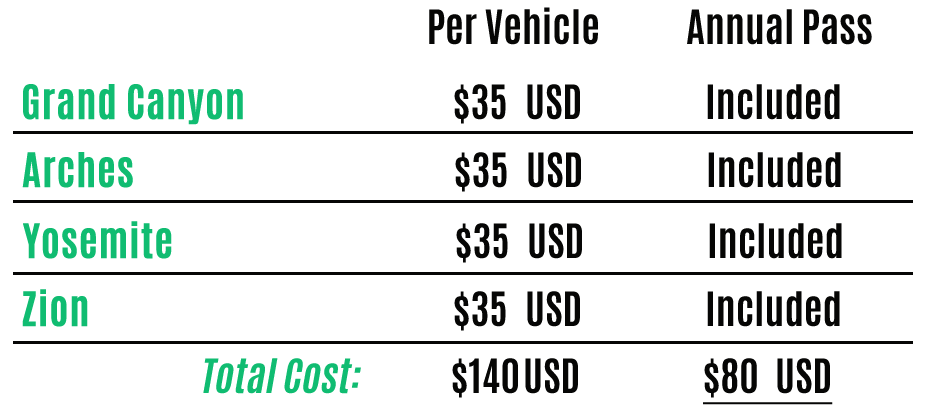 You can purchase this annual pass online: https://www.nps.gov/planyourvisit/passes.htm
Free Seniors, Military, Veterans or Disability Passes
The Lifetime Seniors Pass or Disability Passes allows access into the National Parks and can be obtained at the gate of the most National Parks. Call park or federally managed land to confirm availability. List of all federal recreation sites (PDF).
Seniors Pass: You must be a US citizen over 62 years of age. The pass provides entrance or access to pass owner and accompanying passengers in a single, private, non-commercial vehicle at Federal operated recreation sites across the country.
Disability Pass:
A free, lifetime pass – available to U.S. citizens or permanent residents of the United States that have been medically determined to have a permanent disability (does not have to be a 100% disability).
May be obtained free in person at a federal recreation site.
Provides entrance or access to pass owner and accompanying passengers in a single, private, non-commercial vehicle at Federal operated recreation sites across the country.
Photo identification may be required to verify ownership.
Passes are NON-REFUNDABLE, NON-TRANSFERABLE, and cannot be replaced if lost or stolen.
Military Pass:
You can receive your free Military pass by presenting your Current US military ID at most Federal lands that charge an entrance fee.
Sites that issue the Annual Pass will generally also issue the free US military version as well.
Please contact the Federal Land you will be visiting in advance to ensure that they have the pass available.
Veterans Pass
As of November 11th, 2020 veterans qualify for free entry into federal parks. For more information on this and for Gold Star Families, please see our help center article: Access for Veterans and Gold Star Families
The state park entrance pass system works differently in each state. Many states offer some sort of pass that allows for unlimited entry at most state parks, while others offer park passes on a park-by-park basis. A few states do not charge entry fees to their state parks and thus do not offer an entrance pass. RV Travel Bugs is currently researching tips for USA State Parks bookings and passes.
National Park Reservation System
There is a lot of information on the net that is out of date or incorrect. RV Travel Bugs has taken the time to research updated information on National Parks and bookings. Although things could change, the information posted here is correct as of Feb 2023.
The National Park Reservation System currently handles Acadia, Bryce Canyon (North Campground), Cape Hatteras, Grand Canyon, Great Smoky, Olympic, Rocky Mountain, Sequoia and Kings Canyon, and Zion parks. Other National Parks do not take reservations, offering sites on a first-come, first-served basis, and usually allowing you to choose your own site and self-register. Some reservation campgrounds allow you to request a particular site when you reserve. Sometimes, even if you can't select your site, rangers at the campground may give you your choice if you arrive early enough.
Make a Campground Reservation
Visit www.recreation.gov (recommended)
877/444-6777. (or 877/833-6777 for TDD) (or 518/885-3639 from outside the US & Canada)
Here's a look at some of our favorite National Parks we think you will really enjoy visiting!
Arches National Park Utah
To visit Arches National Park from April 1 to October 31, 2023, between 7:00 a.m. and 4:00 p.m., you will have to go through a reservation system. You will then need to go to this website, choose the date and time of your visit, and pay a $2 reservation fee per car (non-refundable). The reservation does not include the entrance fee that you will have to pay at the time of reservation (or use America the Beautiful Park Pass).
Due to the popularity of the park, make your reservation as soon as possible. In case you are not able to find an available spot, there is still another way. Every day from 6:00 p.m. onwards you can book reservations for the next day if there are still any available. So here's a helpful reminder of when tickets will go on sale for 2023:
For the month of April: from January 10 at 8:00 a.m. (Mountain Standard Time)
For the month of May: from February 1 at 8:00 a.m. (Mountain Standard Time)
For the month of June: from March 1 at 8:00 a.m. (Mountain Standard Time)
For the month of July: from April 1 at 8:00 a.m. (Mountain Daylight Time)
For the month of August: from May 1 at 8:00 a.m. (Mountain Daylight Time)
For the month of September: from June 1st at 8:00 a.m. (Mountain Daylight Time)
For the month of October: from July 1st at 8:00 a.m. (Mountain Daylight Time)
Yosemite National Park – California
Finally, Yosemite reservation system is GONE FOR NOW! The official news from the website is "Those who plan to visit Yosemite during the spring and summer of 2023, will no longer be required to make a campground reservation".
The system was originally implemented during the first two years of the pandemic to prevent overcrowding and continued into this year because of an ongoing construction project. But while you may rejoice, for now, park officials say the reservation system may not be gone for good. According to officials, the suspension of the program is a chance to check attendance, gauge public opinion, and improve crowd management tactics going forward. In the future they may implement long-term reservation systems for at least part of their peak seasons.
Yellowstone National Park
Yellowstone is one of the most amazing national parks and should be on your bucket list of all the National Parks! You should plan to stay a week so you can see all the highlights like Old Faithful and the thermal pools. Yellowstone National Park offers 12 campgrounds with over 2,000 established campsites. All campsites must be reserved in advance, with the exception of Mammoth Campground which offers first-come, first-served sites from October 15 – April 1. Most campsites are reserved far in advance, so it is recommended that you make reservations as early as you can. All dates are subject to change.
Acadia National Park (Maine)
Acadia National Park in Main is also one of RV Travel Bug's favorite parks. The park is composed of a cluster of islands on the coast of Maine. Besides the stunning scenic drive, you will see some diverse wildlife. If you plan to drive along this scenic road between May 25 and October 22, you will need to pay $6 ($4 is for admission plus a $2 reservation) on this website.
Many people begin their exploration of the park at the headquarters or the Hulls Cove Visitor Center. To enjoy the park with fewer crowds during peak summer months, try an alternative entrance like the Welcome Center at Rockefeller Hall on the Schoodic Peninsula.
There are many activities such as hiking, biking, fishing, wildlife viewing and also there are some great tours you can join.
There is a variety of campsites can be found on Mount Desert Island, the Schoodic Peninsula and Isle au Haut. Many campsites have bathrooms with running water and showers close by, though you can rough it at more primitive campsites. If you're not sure where to stay but want to enjoy the park by day and comforts of town by night, you can find inns, cottages, hotels and more in towns like Bar Harbor, Ellsworth, Southwest Harbor, Tremont and more. Find the park's seasonal hours and information on fees and passes below. If you're driving to the park, keep in mind that some lots do not accommodate RVs or trailers.
https://visitmaine.com/things-to-do/parks-natural-attractions/acadia-national-park
While you're in the area, visit the quaint cottage town of Bar Harbor. You'll find local specialties and all the great lobster dishes that make Maine famous.
Rocky Mountain National Park (Colorado)
The reservation system to access Rocky Mountain National Park will continue to be in place in 2023 between May 26 and October 22. One thing to note Rocky Mountain National Park will implement another pilot temporary timed entry permit reservation system from May 26 through October 22, 2023. Visit Rocky's Timed Entry Permit Reservation page for more details.
Park Entrance Fees
1-Day Vehicle Entrance Pass – $30.00. Valid for date of purchase. Covers single, non-commercial vehicle with capacity of less than 16 passengers.
7-Day Vehicle Entrance Pass – $35.00 – Rocky Entrance Fee – vehicle entrance pass valid for 7 consecutive days
Rocky Mountain National Park Annual Pass – $70.00 – Unlimited entry for one year from date of purchase.
Interested in Purchasing Your Park Entrance Pass Online?
Whether you're planning a single visit or coming back multiple times a year, enjoy the convenience of purchasing a Rocky Mountain National Park site-specific digital pass online before you arrive.
You have immediate access to your digital pass and can easily download it on your phone or tablet. Your pass will also be emailed as a PDF and can be printed out for display when you arrive. Purchase passes on the website below:
https://www.nps.gov/romo/planyourvisit/fees.htm
Fee Free Days in 2023
Camping
There are five campgrounds to choose from. The Aspen Glen, Glacier Basin, Longs Peak and Moraine Park campgrounds are all on the park's east side. To the west, you'll find Timber Creek Campground. To camp in the backcountry, you need a permit. And you can only get one at Recreation.gov, starting March 1 at 8 a.m. MT.
Campground Fees
Summer
Standard sites at all campgrounds
$35 per night
Summer
Group sites at Glacier Basin Campground
$50 per night for small sites
$60 per night for medium sites
$70 per night for large sites
Winter
Moraine Park Campground
(all other campgrounds closed)
$30 per night
Access and Senior Pass holders receive a 50% discount on standard sites.
National Parks Guide Books we Love
Before you go, you can get the family excited with the Trekking The National Parks Game especially if you are planning to visit a few of the parks. We would not leave home without the updated version of the Rand McNally Maps and The National Parks Bucket List Journal is a great way to keep all your memories fresh.